MBM Drop Shipping Program
MBM Drop Shipping Program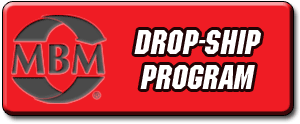 Consider the value of being able to have your products shipped directly from the manufacturer to your customer. It ensures a faster delivery to your customer as well as savings for you by reducing the need for keeping high inventory and eliminating freight costs to get that inventory to you so you can sell it. If you haven't considered the value of drop-shipping, now is the perfect time to get into this program.
BENEFITS OF USING MBM TO DROP-SHIP DIRECTLY TO YOUR CUSTOMER
Security. You can trust MBM, Our priority is to continue to serve you time after time, and in the process help your business grow.
Streamlines your business and increases your ability to service your customer quickly.
Utilizes a positive cash flow cycle. You receive payment from your customer at the time of purchase, eliminating the need for your business to absorb costs up front.
Reduce your overhead costs by reducing inventory management and freight! Pay for just one shipment directly to your customer, instead of first to you then your customer
MBM is not new to drop-shipping. We have offered the program selectively in the past. Due to the success the program has enjoyed we have decided to expand it. We would like the opportunity to include you in this program's many benefits.
MBM has a proven record with drop-shipping. We have all the necessary factors in place, ready for you to take advantage of!
HERE IS WHAT MBM DOES FOR YOU:
We will always ship to your customer within 72 hours for items that are in stock, but our average time between receiving your order and when it is shipped is only a little over 24 hours!
All paperwork references ONLY your company.
How much does this cost? Only $5.00 per order in addition to the usual handling fee of $7.50.
Send us your company logo and we include it on the packing list (see example); or we can use generic language about the order being shipped from the factory and use your company name and address.
The UPS shipping label on the white unmarked cartons has your company name in the return address section (see example).
You get a same day UPS email notice of the shipment to your customer with the tracking number. We keep you completely informed in the process.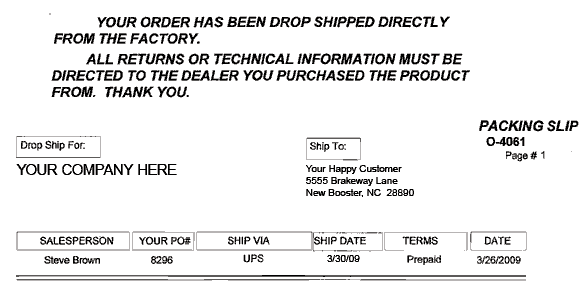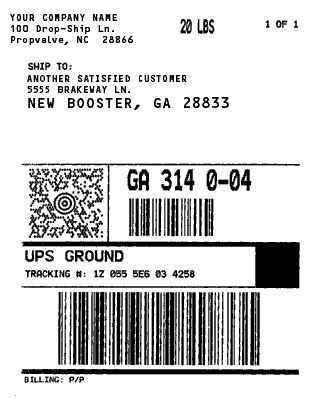 YOUR CUSTOMERS CAN RECEIVE FULLY BRANDED ORDERS FROM YOUR COMPANY TODAY!
CALL, EMAIL, OR FAX YOUR MBM SALES REPRESENTATIVE WITH YOUR DROP-SHIP ORDER!