MBM Private Label Program
MBM Private Label Program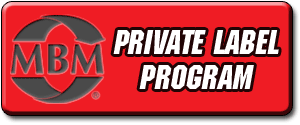 Profits and the increase of your hard-won customer loyalty are two of the greatest benefits of selling private-label products. You can make higher profits with your own branded products over the cost of nationally advertised brands, a sure way to increase your bottom line. Are you giving your customers enough reasons to come back to you with repeat business? Consider offering MBM products with your own private label to bring back business through lower prices while increasing profitability.
BENEFITS OF USING MBM AS YOUR PRIVATE LABEL SUPPLIER
Increase your company's name recognition by offering your own signature products.
MBM's low pricing helps grow your profi ts while increasing your company's brand awareness.
You choose the packaging, so when your order arrives it is ready to ship to your customers.
MBM can use your labels on our cartons. If needed we can also produce labels here in-house using your logo, your part numbers, bar coding (if necessary), and any other information you require.
MBM ships your products ready to go, with no re-labeling or other prep work necessary. This reduces your in-house costs and saves you money!
We can include your promotional material, monthly specials, instruction sheets, or any other collateral material already packed with your product.
MBM can do it all for you!
CALL YOUR MBM SALES REPRESENTATIVE TODAY AND FIND OUT HOW YOU CAN BE A
PART OF THE PRIVATE LABEL PROGRAM!